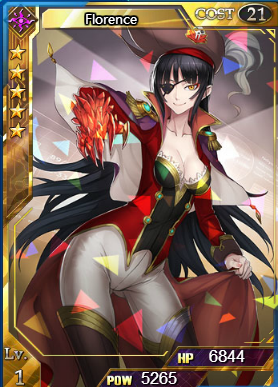 Star Level: ☆☆☆☆☆
Rarity: Super Rare
Energy Cost: 21 
HP: Base - 6222 / 6844 (Flash)
Power: Base - 4786 / 5265 (Flash)
Spell: Talent:Chaos - When the player has more HP, Power increases by a larger margin. 
College: Infector
Illustrator: Ryuzaki-ichi
Intro: 
Florence came from an alien clan, who make a living by colonizing other planets or spaceships. They look like humans with a special sensor. Florence was left behind due to the undeveloped space leap. Then she has came to Aglaea and lived on stealing.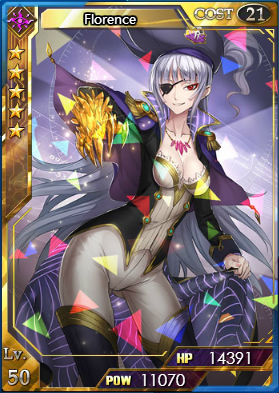 Obtain: Tournament Ranking rewards (October 26 - November 29 2014)
Ultimate Form
Level: 50 / 90 / 50 (Flash) / 90 (Flash)
HP: 13083 / 21804 / 14391 / 23984
Power: 10064 / 16772 / 11070 / 18449
Other
Not to be confused with Flo.
Ad blocker interference detected!
Wikia is a free-to-use site that makes money from advertising. We have a modified experience for viewers using ad blockers

Wikia is not accessible if you've made further modifications. Remove the custom ad blocker rule(s) and the page will load as expected.