Star Level:  ☆☆☆☆☆
Rarity:  Super Rare
Energy Cost: 22
HP: Base - 6505
Power: Base - 5004
Max Limit Break: 4
Spell: #Surge - Restores more HP in the later round.
College: Skyrage College
Illustrator: SEAL + rhea
Intro: 
The legendary heroin Eve is well-known in the short history of Aglaea. She defeated a lot of X Infectors on her giant mobile armor, but she finally sacraficed herself in battle which occurred in the 36th year of the Starsea Era. Since then, no one has been able to control her mobile armor Cronus before
Lear
came up.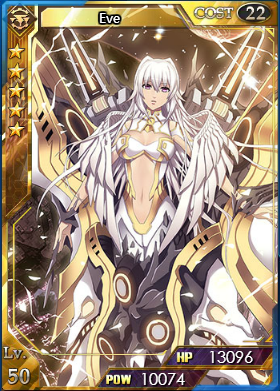 Obtain: Defeat her during Revival of Stars event.
Ultimate Form
Level: 50 / 90
HP: 13096 / 21100
Power: 10074 / 16231
Ad blocker interference detected!
Wikia is a free-to-use site that makes money from advertising. We have a modified experience for viewers using ad blockers

Wikia is not accessible if you've made further modifications. Remove the custom ad blocker rule(s) and the page will load as expected.