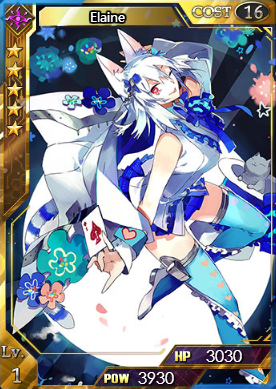 Star-level: ☆☆☆☆☆
Rarity: Super Rare
Energy Cost: 16 
HP: Base - 3030
Power: Base - 3930
Spell: Talent: Pearl Powder - When the player has more then 50% HP remaining, Power increases by 100%. 
College: Infector 
Illustrator: STAR MAGE
Intro: Elaine has seldom appeared on public occasions, but she can cause fear and panic wherever she appears. Since she escaped from jail, she has not been captured again. Little information about her has been recorded, so people can hardly find useful information to capture or kill her.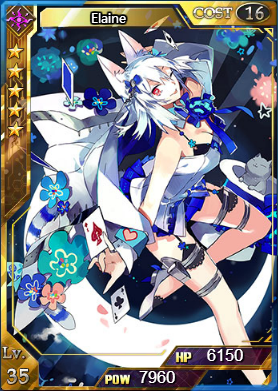 Obtain: Defeat her during  Hot Girls Squad event.
Ultimate Form
Level: 35 / 90
HP: 6150 /
Pow: 7960 /
Ad blocker interference detected!
Wikia is a free-to-use site that makes money from advertising. We have a modified experience for viewers using ad blockers

Wikia is not accessible if you've made further modifications. Remove the custom ad blocker rule(s) and the page will load as expected.