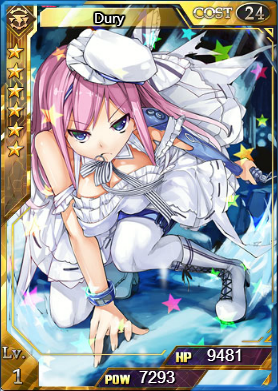 Star Level: ☆☆☆☆☆☆
Rarity: Super Rare+
Energy Cost: 24
HP: Base - 8619 / 9481 (Flash)
Power: Base - 6630 / 7293 (Flash)
Max Limit Break: 4
Spell: #Unmoved - When the Player has less than 10% HP remaining, restores 100% of card's HP. 
College: Skyrage College
Illustrator: spirtie
Intro: Dury is a mystical girl who specializes in blasting. She has seldom attended classes at the Skyrage College. She has gone under the knife to inhibit the pain sense so that she can accept any dangerous task.
Obtain: Super Draw, Flash (Point) Draw during Dark Lair event.
Ultimate Form
Level: 60 / 100 / 60 (Flash) / 100 (Flash)
HP: 21295 / 33163 / 23425 / 36479
Power: 16381 / 25510 / 18019 / 28061
Ad blocker interference detected!
Wikia is a free-to-use site that makes money from advertising. We have a modified experience for viewers using ad blockers

Wikia is not accessible if you've made further modifications. Remove the custom ad blocker rule(s) and the page will load as expected.