Star Level:  ☆ ☆
Rarity:  Normal +
Energy Cost: 9
HP: Base - 2260
Power: Base - 1740
Max Limit Break: 3
Spell: Wood/Song of Forest - Possibly restores X Energy (X=the number of active cards) when winning a battle.
College: Godef College
Illustrator: Carpman
Intro: Willful and romantic Dubhe has been obsessed with the heaven since childhood though he knows the heaven above was created by human beings. He has been looking forward to exploring the vast universe.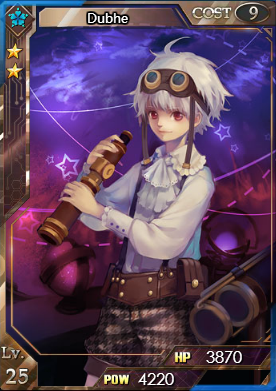 Obtain: Kindness Draw, Berserk Infector drop.
Ultimate Form:
Level: 25
HP: 3870
Power: 4220