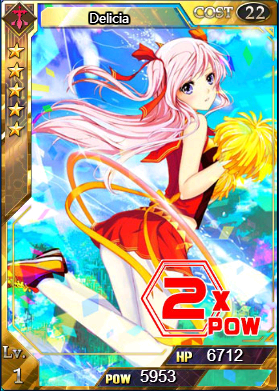 Star Level:  ☆☆☆☆☆
Rarity:  Super Rare
Energy Cost: 22
HP: 6102 / 6712 (Flash)
Power: 5412 / 5953 (Flash)
Max Limit Break: 4 
Spell: With more cards in battle, restores more HP.
College: Dragonale College
Illustrator: Sir 47
Intro: Delicia's family refuses to reconstruct her body because they believe it's the retrogression of civilisation. Therefore, Delicia is not as strong as others, but she can manipulate large battle machines skilfully.
Obtain: Point Draw (Flash), Super Draw during the New Year Dance event.
Ultimate Form
Level: 50 / 50 (Flash) / 90 / 90 (Flash)
HP: 14022 / 15424 / 25130 / 27643
Power: 12435 / 13679 / 22285 / 24514
Ad blocker interference detected!
Wikia is a free-to-use site that makes money from advertising. We have a modified experience for viewers using ad blockers

Wikia is not accessible if you've made further modifications. Remove the custom ad blocker rule(s) and the page will load as expected.