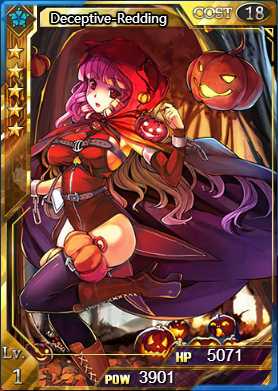 Star Level:  ☆☆☆☆☆
Rarity:  Super Rare
Energy Cost: 18 
HP: Base - 5071
Power: Base - 3901
Max Limit Break: 4 
Spell: Restores more HP in the later round. 
College: Godef College
Illustrator: 
spirtie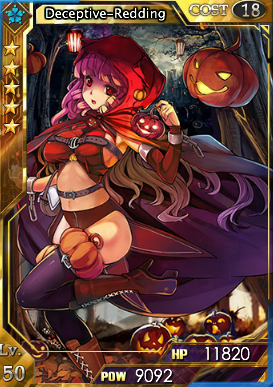 Intro: Residents on Aglaea may haven't found that No. 1 Deceptive-Redding has hidden herself in the spacecraft. The misfortune and tears of this touching girl are only for your sympathy and money.
Obtain: Defeat her during Halloween Carnival event.
Ultimate Form
Level: 50 / 90
HP: 11820 / _____
Power: 9092 / _____
Ad blocker interference detected!
Wikia is a free-to-use site that makes money from advertising. We have a modified experience for viewers using ad blockers

Wikia is not accessible if you've made further modifications. Remove the custom ad blocker rule(s) and the page will load as expected.