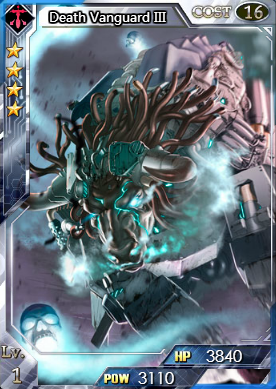 Star Level: ☆☆☆☆
Rarity: Rare+
Energy Cost: 16 
HP: Base - 3840
Power: Base - 3110
Max Limit Break: 4
Spell: Repel: Blade Suppress - Increases Power by 50% when fighting against an [Infector].
College: Dragonale College
Illustrator: ace
Intro: To retaliate against those who despised him, Dr. Cruncher created a horrible killing machine not long before he died. The killing machine knocked down a bull infected by X substanses, and then became more powerful.
Obtain: Defeat it during 'Glory Days' event (August 24 - August 31 2014)
Ultimate Form
Level: 30 / 70
HP:
Power:
Ad blocker interference detected!
Wikia is a free-to-use site that makes money from advertising. We have a modified experience for viewers using ad blockers

Wikia is not accessible if you've made further modifications. Remove the custom ad blocker rule(s) and the page will load as expected.