Star-level: ☆☆☆☆☆
Rarity: Super Rare
Energy Cost: 22
Hp: Base - 4000 / 4400 (Flash)
Pow: Base - 2000 / 2200 (Flash)
Max Limit Break: 4
Spell: Valiant:Regenerate - Restores 100% of card's HP
College: Dragonale College
Illustrator:
spirtie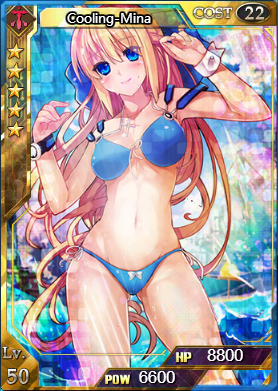 Intro:
Mina says the best way to relieve summer heat is swimming. However, whenever she appears, the temperature of the surroundings will rise by a large margin strangely.
Obtain: Super Draw, Point Draw, Coupon Draw during Bikini Girls event
Ultimate Form
Level: 50 / 50 (Flash) / 90 / 90 (Flash)
HP: 8000 / 8800 (Flash) / 13800 / 15180 (Flash)
Pow: 6000 / 6600 (Flash) / 10500 / 11550 (Flash)
Ad blocker interference detected!
Wikia is a free-to-use site that makes money from advertising. We have a modified experience for viewers using ad blockers

Wikia is not accessible if you've made further modifications. Remove the custom ad blocker rule(s) and the page will load as expected.