Star Level: ☆☆☆☆☆
Rarity: Super Rare
Energy Cost: 22
HP: Base - 4400 / 4840 (Flash)
Power: Base - 4700 / 5170 (Flash)
Spell: When the player has higher maximum AP, Power increases by a larger margin.
College: Skyrage College
Illustrator: Chingo Muyi
Intro:
Lear's endurance is rather poor especially in Summer. Once upon a time, when keeping standing in the sun for a while, he calmly pretended he was about to melt entirely, but Mina argued his level of adrenaline went up because he had seen too many hot girls.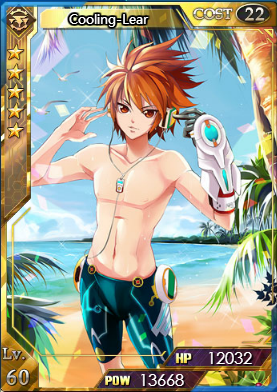 Obtain: Point Draw (Flash), Coupon Draw, and Greater Draw from Bikini Girls Event.
Ultimate Form
Level: 50 / 50 (Flash) / 90 / 90 (Flash)
HP: 9250 / 10175 (Flash) / 16000 / 17600 (Flash)
Power: 9900 / 10890 (Flash) / 20000 / 22000 (Flash)
Ad blocker interference detected!
Wikia is a free-to-use site that makes money from advertising. We have a modified experience for viewers using ad blockers

Wikia is not accessible if you've made further modifications. Remove the custom ad blocker rule(s) and the page will load as expected.