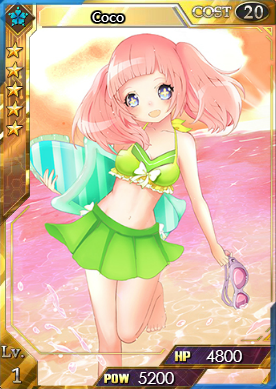 Star Level: ☆☆☆☆☆
Rarity: Super Rare
Energy Cost: 20
HP: Base - 4800 / 5280 (Flash)
Power: Base - 5200 / 5720 (Flash)
Max Limit Break: 3
Spell: Light/Polar Flash - With more friends, Power increases by a larger margin.
College: Godef College
Illustrator: Sir 47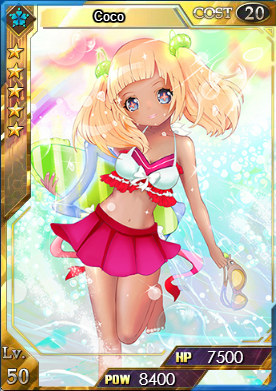 Intro: Coco said she had the best time this Summer in the water world of Lake of Benefaction. She disabled herself from reflecting sunshine on purpose. She spent only one day to make her skin brown and she is quite satisfied with that.
Obtain: Event Point Ranking rewards for Bikini Girls event.
Ultimate Form
Level: 50 / 50 (Flash) / 90 / 90 (Flash)
HP: 7500 / 8250 (Flash) / 12250 / 13475 (Flash)
Power: 8400 / 9240 (Flash) / 15500 / 17050 (Flash)
Ad blocker interference detected!
Wikia is a free-to-use site that makes money from advertising. We have a modified experience for viewers using ad blockers

Wikia is not accessible if you've made further modifications. Remove the custom ad blocker rule(s) and the page will load as expected.