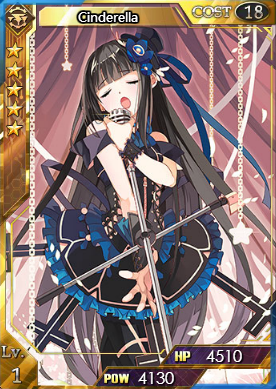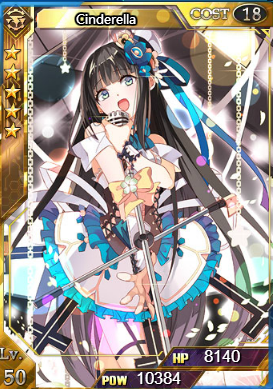 Star Level: ☆☆☆☆☆
Rarity:  Super Rare
Energy Cost: 18 
HP: Base - 4510 / 4961 (Flash)
Power: Base - 4130 / 4543 (Flash) 
Max Limit Break: 4 
Spell: #Magic Butterfly - Increases power by 200% when fighting against an [Infector]. 
College: Skyrage College 
Illustrator: Sherry
Intro: Cinderella is a student, but she has seldom appeared in college. It's mainly because she is a popular star in the spacecraft. People think she was born in a noble family, but she is actually the only daughter of a housemaid who has been serving a noble family.
Obtain: Event Ranking Reward for Glory Days event.
Ultimate Form
Level: 50 / 50 (Flash) / 90 / 90 (Flash)
HP: 7400 / 8140 / 17710 / 18810
Power: 9440 / 10384 / 16900 / 18590
Other
Not to be confused with her 6-Star version, Sweet-Cinderella, from a later event.