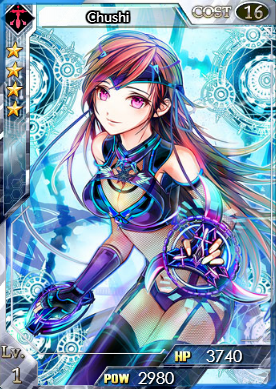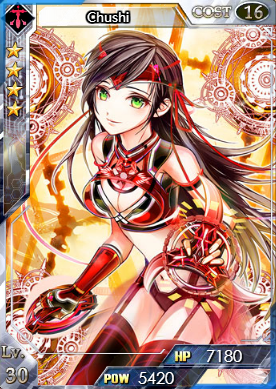 Star Level: ☆☆☆☆
Rarity: Rare+
Energy Cost: 16 
HP: Base - 3740
Power: Base - 2980
Max Limit Break: 4
Spell: Approach: Ghastly Spear - With more cards of [Dragonale College] in the group, Power increases by a larger margin. 
College: Dragonale College 
Illustrator: darkpaint
Intro: Chushi is so brave and smart. She wields an electromagnetic dart to make herself look like a ninja? Not really. She just wields it for the sake of convenience.
Obtain: Coupon Draw, Super Draw, Greater Draw, Berserk Infector drop. 
Ultimate Form
Level: 30 / 70
HP: 7180 / 11200
Power: 5420 / 8500
Other
Not to be confused with Lonsil.
Ad blocker interference detected!
Wikia is a free-to-use site that makes money from advertising. We have a modified experience for viewers using ad blockers

Wikia is not accessible if you've made further modifications. Remove the custom ad blocker rule(s) and the page will load as expected.