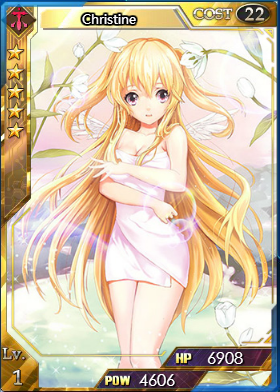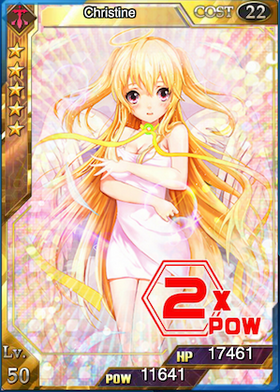 Star Level: ☆☆☆☆☆
Rarity: Super Rare
Energy Cost: 22
HP: 6908 / 7599 (Flash)
Power: 4606 / 5067 (Flash) 
Max Limit Break: 4 
Spell: As card's level goes up, Power increases by a larger margin.
College: Dragonale College
Illustrator: Sir 47
Intro: Christine is a gentle girl who likes poems and drawings. She is often indulged in her own dream world.
Obtain: Tournament Ranking rewards (February 1st - 28th 2015)
Ultimate Form
Level: 50 / 50 (Flash) / 90 / 90 (Flash)
HP: 15874 / 17461 / 28559 / 31415
Power: 10583 / 11641 / 19040 / 20944
Ad blocker interference detected!
Wikia is a free-to-use site that makes money from advertising. We have a modified experience for viewers using ad blockers

Wikia is not accessible if you've made further modifications. Remove the custom ad blocker rule(s) and the page will load as expected.