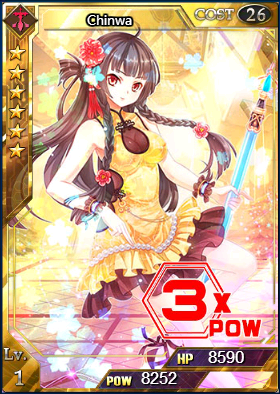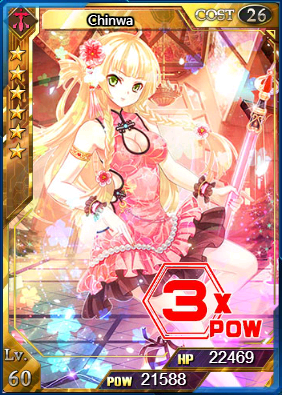 Star Level:  ☆☆☆☆☆☆
Rarity: Super Rare + 
Energy Cost: 26 
HP: Base - 7809 / 8590 (Flash) 
Power: Base - 7502 / 8252 (Flash) 
Max Limit Break: 4 
Spell: #Courageous - with more cards in battle, restores more HP. 
College: Dragonale College 
Illustrator: Adam.J 
Intro: Chinwa believes that body is the essential weapon, which should be improved repeatedly. Her fighting ability has reached a new high degree after persistent practice.  
Obtain: Point Draw (Flash), Super Draw, Greater Draw during the Beauty Pageant Event. 
Ultimate Form
Level: 60 / 60 (Flash) / 100 / 100 (Flash) 
HP: 22469 (Flash) / 32946 
Power: 21588 (Flash) / 31654 
Ad blocker interference detected!
Wikia is a free-to-use site that makes money from advertising. We have a modified experience for viewers using ad blockers

Wikia is not accessible if you've made further modifications. Remove the custom ad blocker rule(s) and the page will load as expected.