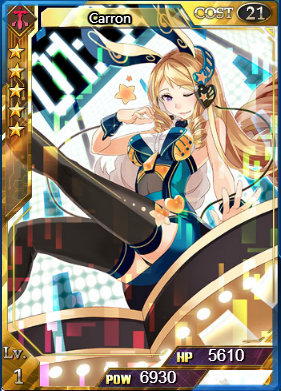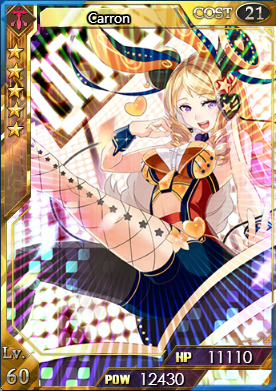 Star Level: ☆☆☆☆☆
Rarity: Super Rare
Energy Cost: 21 
HP: Base - 5100 / 5610 (Flash)
Power: Base - 6300 / 6930 (Flash)
Spell: With more cards in battle, Power increases by a larger margin. 
College: Dragonale College
Illustrator: Sherry
Intro: Carron has been resentful for being forced to join the same battle squad as Kargacy and Caroline. She can easily gain a high position in the army because of her notable family. When she used stardust to enhance acoustic interference devices, she found stardust can also improve her singing.
Obtain: Tournament Ranking rewards (September 28 - October 25 2014)
Ultimate Form
Level: 50 / 50 (Flash) / 90 / 90 (Flash)
HP: 10100 / 11110 / 16100 /  17710
Power: 11300 / 12430 / 18300 / 20130