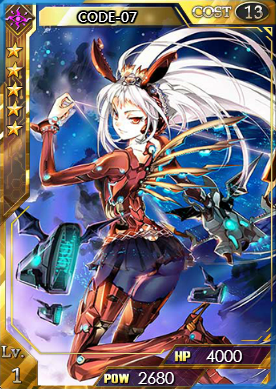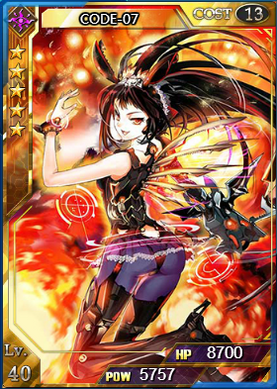 Star Level:  ☆☆☆☆☆
Rarity:  Super Rare
Energy Cost: 13
HP: Base - 4000 / 4400 (Flash)
Power: Base - 2680 / 2948 (Flash)
Spell: Power increases by 100% when the card's level cannot go up anymore.
College: Infector
Illustrator:  Babu
Intro: CODE-07 is the No. 7 senior Infector on record. She was originally named Chinlo. She still knows the core secrets about producing new-style machine. So it is very important to capture her, but it is rather hard to find her.
Obtain: Prepayment rewards August 16 - August 31 2014
Ultimate Form
Level: 40 / 40 (Flash) / 90 / 90 (Flash)
HP: 8700 / 9434 / 17200 / 18920
Power: 5757 / 6228 / 12300 / 13530
Other
Not to be confused with Number 7.
Ad blocker interference detected!
Wikia is a free-to-use site that makes money from advertising. We have a modified experience for viewers using ad blockers

Wikia is not accessible if you've made further modifications. Remove the custom ad blocker rule(s) and the page will load as expected.