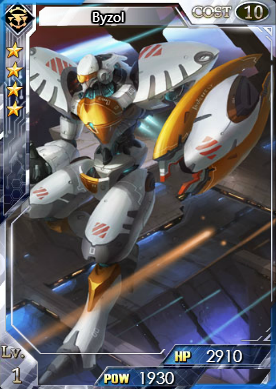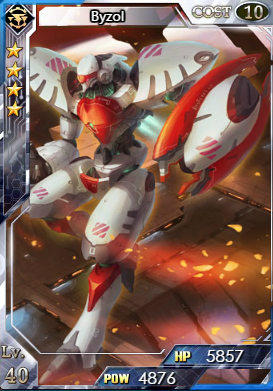 Star Level: ☆☆☆☆
Rarity: Rare+
Energy Cost: 10 
HP: Base - 2910
Power: Base - 1930
Max Limit Break: 4
Spell: #Ambush- Possibly restores 10 AP when winning a battle. 
College: Skyrage College 
Illustrator: Tysin
Intro: Because of the work of X substances, Byzol's body has completely mixed with the mobile armor. He is a skillful mechanic. He is glad to help people remold their machines, but he usually asks for a fairly high pay and he even sometimes privately takes possession of good parts.
Obtain: Greater Draw, Super Draw, Coupon Draw, Normal Infector drop (rare), Berserk Infector drop.
Ultimate Form
Level: 33 / 70
HP: 5030 / 9400
Power: 4240 / 7600