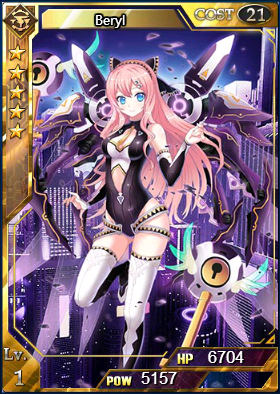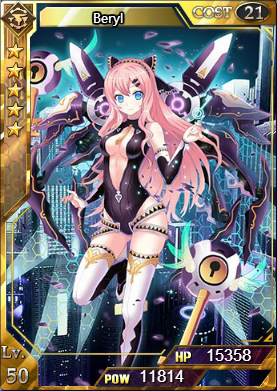 Star Level:  ☆☆☆☆☆
Rarity: Super Rare 
Energy Cost: 21 
HP: Base - 6704 
Power: Base - 5157 
Max Limit Break: 4 
Spell: #Shape Upgrade - Restores more HP in the later round. 
College: Skyrage College 
Illustrator: SEAL 
Intro: Beryl likes to modify machine but has often failed because of awkwardness. However, the teachers of the Skyrage College really like her ideas and optimism.  
Obtain: Reward for every 15,000 event points earned during the Beauty Pageant Event. 
Ultimate Form
Level: 50 / 90 
HP: 15358 / 26280 
Power: 11814 / 20215 
Ad blocker interference detected!
Wikia is a free-to-use site that makes money from advertising. We have a modified experience for viewers using ad blockers

Wikia is not accessible if you've made further modifications. Remove the custom ad blocker rule(s) and the page will load as expected.