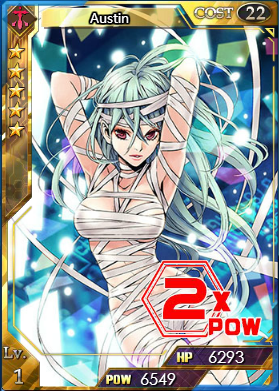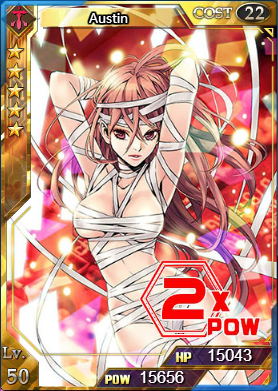 Star Level: ☆☆☆☆☆
Rarity: Super Rare
Energy Cost: 22
Hp: Base- 5721/6293 (Flash)
Power: Base- 5954/ 6549(Flash)
Max Limit Break: 4
Spell: Talent: Gene Recombination- With more cards in battle, Power increases by a larger margin.
College: Dragonale College
Illustrator: BUDDY
Intro: Austin accepts all kinds of body reconstruction constantly to remove any possible defect. But in the eyes of other people, her behavior is just like an obsession.
Obtain: Super Draw, Point Draw, and Greater Draw during the 'Time Has Reversed' event.
Ultimate Form
Level: 50 / 50 (Flash) / 90 / 90 (Flash)
Hp: ___ / 15043 / 
Power: ___ / 15656 / 
Ad blocker interference detected!
Wikia is a free-to-use site that makes money from advertising. We have a modified experience for viewers using ad blockers

Wikia is not accessible if you've made further modifications. Remove the custom ad blocker rule(s) and the page will load as expected.