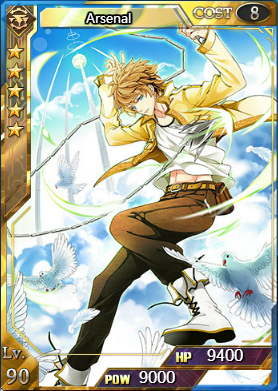 Star Level: ☆☆☆☆☆
Rarity:  Super Rare
Energy Cost: 8 
HP: Base - 2630
Power: Base - 2870
Spell: #Arousal of Soul - Power increases by 100%.
College: Skyrage College 
Illustrator: FlowerSpring
Intro: Arsenal has been able to wield stardust since he was born. He is too poor to be able to afford the tuition of the Dragonale College. So he has to study in the Skyrage College temporarily. Fortunately, a teacher has known that and is applying for the scholarship of the Dragonale College for him.
Obtain: Defeat him during Glory Days event.
Ultimate Form
Level: 35 / 90
HP: 5330 / 9400
Power: 5810 / 9000
Ad blocker interference detected!
Wikia is a free-to-use site that makes money from advertising. We have a modified experience for viewers using ad blockers

Wikia is not accessible if you've made further modifications. Remove the custom ad blocker rule(s) and the page will load as expected.