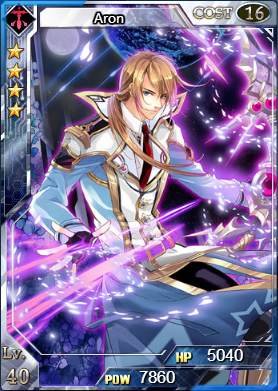 Star Level: ☆☆☆☆
Rarity: Rare+
Energy Cost: 16 
HP: Base - 2800
Power: Base - 3650
Max Limit Break: 3
Spell: Lash: Rip - Power increases by 100%. 
College: Dragonale College
Illustrator: ivy
Intro: Aron always carries candies with him. To get a candy from him, you have to defeat him first. He seems so weird, but he is in fact kind-hearted.
Obtain: Event Points reward during 'Final Test' event.
Ultimate Form
Level: 40 / 70
HP: 5040 / 10300
Power: 7860 / 11900
Other
Not to be confused with the other Aron because Star Era is super duper creative with names.
Ad blocker interference detected!
Wikia is a free-to-use site that makes money from advertising. We have a modified experience for viewers using ad blockers

Wikia is not accessible if you've made further modifications. Remove the custom ad blocker rule(s) and the page will load as expected.