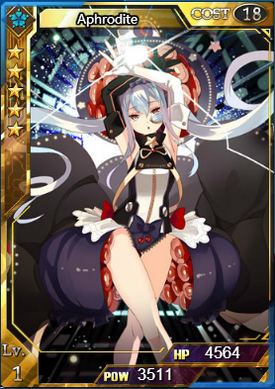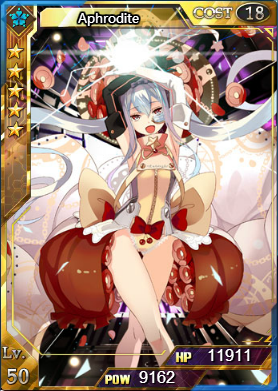 Star Level: ☆☆☆☆☆
Rarity: Super Rare
Energy Cost: 18 
HP: Base - 4564
Power: Base - 3511
Max Limit Break: 4
Spell: Shadow/Magnetic Disturbance - With more cards in battle, Power increases by a larger margin. 
College: Godef College
Illustrator: Sherry
Intro: The students of the Godef College are wealthy because of their family, so is Aphrodite. She has studied a lot in the college, but she only excels at magnet interference.
Obtain: Defeat her during Halloween Carnival event.
Ultimate Form
Level: 50 / 90
HP: 11911 / 22737
Power: 9162 / 17490