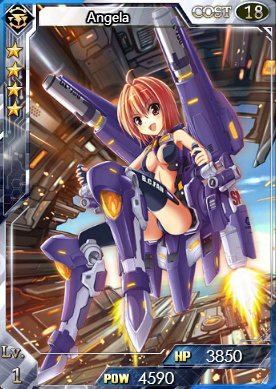 Star Level: ☆☆☆☆
Rarity: Rare+
Energy Cost: 18 
HP: Base - 3850
Power: Base - 4590
Max Limit Break: 3
Spell: #Void Break - With more friends, Power increases by a larger margin.  
College: Skyrage College 
Illustrator: Typhoon
Intro: Angela has joined many experiments for money. She is an orphan and she does not join any organization. So she needs to earn money to pay for studying in the Starsea College. She has planned to become a perfessional pilot in the future.
Obtain: Defeat her during Hot Girls Squad event.
Ultimate Form
Level: 40 / 70
HP: 6250 / 8500
Power: 9850 / 11400
Ad blocker interference detected!
Wikia is a free-to-use site that makes money from advertising. We have a modified experience for viewers using ad blockers

Wikia is not accessible if you've made further modifications. Remove the custom ad blocker rule(s) and the page will load as expected.