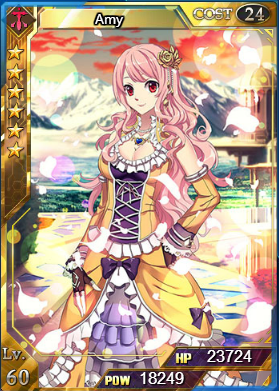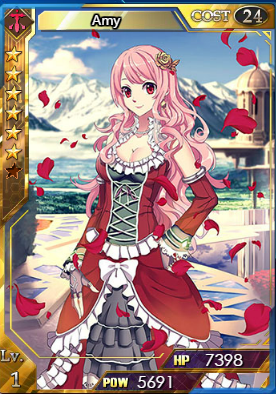 Star Level: ☆☆☆☆☆☆
Rarity: Super Rare+
Energy Cost: 24
HP: Base - 7398 / 8138 (Flash)
Power: Base - 5691 / 6260 (Flash)
Max Limit Break: 4
Spell: Stars:Crystal Wall - Restores 200% of Card's HP.
College: Dragonale College
Illustrator: SEAL+rhea
Intro: Amy is well-known for her red hair, dazzling smile and stardust defense with bare hands.
Obtain: Opening a Coloured Egg purchased from Mall; Draw Bonus Card in the Full Moon event.
Ultimate Form
Level: 60 / 60 (Flash) / 100 / 100 (Flash)
HP:  21567 / 23724 / 35083 / 38591
Power: 16590 / 18249 / 26987 / 29686
Ad blocker interference detected!
Wikia is a free-to-use site that makes money from advertising. We have a modified experience for viewers using ad blockers

Wikia is not accessible if you've made further modifications. Remove the custom ad blocker rule(s) and the page will load as expected.