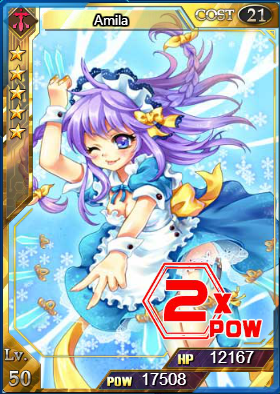 Star Level: ☆☆☆☆☆
Rarity: Super Rare
Energy Cost: 21
Power: 7773
HP: 5401
Max Limit Break: 4
Spell: #Prank: Power increases by 100%.
College: Skyrage College
Illustrator: Nightangel
Intro: Amila likes playing tricks. She regards conventional life as a torture. Her teammates often feel annoyed about her for her actions in battle are usually unpredictable.
Obtain: April 2015 Sign-In rewards
Ultimate Form
Level: 50 / 90
HP: 12167 / 21019
Power: 17508 / 30248
Ad blocker interference detected!
Wikia is a free-to-use site that makes money from advertising. We have a modified experience for viewers using ad blockers

Wikia is not accessible if you've made further modifications. Remove the custom ad blocker rule(s) and the page will load as expected.