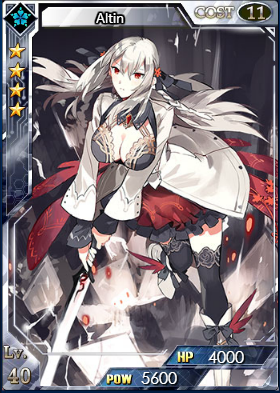 Star Level: ☆☆☆☆
Rarity: Rare+
Energy Cost: 11 
Power: 2800
HP: 2250
Max Limit Break: 3
Spell: Wind/Wind Drag - When the player has less than 50% HP remaining, restores 200% of the card's HP. 
College: Godef College 
Illustrator: STAR MAGE
Intro: Altin looks relaxed though she is quite timid. She can do nothing in battle except when she's teamed up with others. She is able to transmit electric energy, but she is always too nervous to transmit powerful electric energy.
Obtain: 15,000 event point reward during Hot Girls Squad event.
Ultimate Form
Level: 40 / 70
HP: 4000 / 7600
Power: 5600 / 9000
Ad blocker interference detected!
Wikia is a free-to-use site that makes money from advertising. We have a modified experience for viewers using ad blockers

Wikia is not accessible if you've made further modifications. Remove the custom ad blocker rule(s) and the page will load as expected.