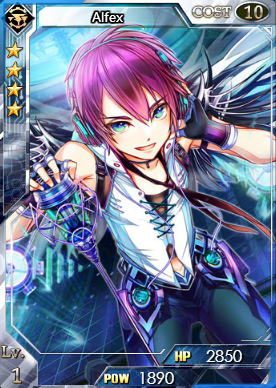 Star Level: ☆☆☆☆
Rarity: Rare+
Energy Cost: 10 
HP: Base - 2850
Power: Base - 1890
Max Limit Break: 4
Spell: #Crashing Parry - Restores 100% of the card's HP. 
College: Skyrage College 
Illustrator: darkpaint
Intro: Because of the influence of X substances, Alfex's eyes are brightly colored. He is not interested in schoolwork or remolding machines at all. Instead, as the lead singer of "Rafael" the secret rock band, he has spent much time in singing.
Obtain: Coupon Draw, Super Draw, Greater Draw, Normal Infector drop (rare), Berserk Infector drop.
Ultimate Form
Level: 37 / 70
HP: 5810 / 10200
Power: 3510 / 6900
Other
Not to be confused with Alex.
Ad blocker interference detected!
Wikia is a free-to-use site that makes money from advertising. We have a modified experience for viewers using ad blockers

Wikia is not accessible if you've made further modifications. Remove the custom ad blocker rule(s) and the page will load as expected.