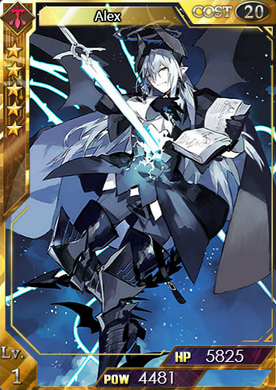 Star Level: ☆☆☆☆☆
Rarity: Super Rare
Energy Cost: 20
HP: Base - 5825
Power: Base - 4481
Max Limit Break: 4
Spell: Insoluble - When Player's HP is less than 50%, Power increases by 100%.
College: Dragonale College
Illustrator: STAR MAGE
Intro:
Is Alex a male or female? Experts in the spacecraft told us humankind cannot have male or female characters at the same. Is Alex a human? Anyhow, Alex is so fascinating.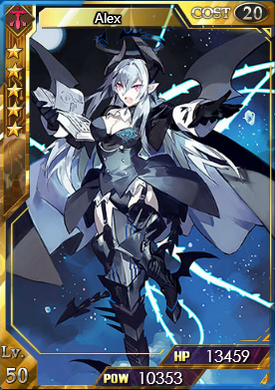 Obtain: Defeat them during Starsea Disciple Session event.
Ultimate Form:
Level: 50 / 90
HP: 13459 / 23940
Power: 10353 / 18415
Other
Not to be confused with Alfex.
It is interesting to note that Alex is the only card currently on the game (so far) to change completely appearance-wise when reaching ultimate form. Whether this will be a thing when announced on English servers is yet to be seen.
Ad blocker interference detected!
Wikia is a free-to-use site that makes money from advertising. We have a modified experience for viewers using ad blockers

Wikia is not accessible if you've made further modifications. Remove the custom ad blocker rule(s) and the page will load as expected.