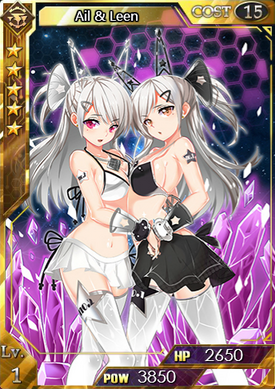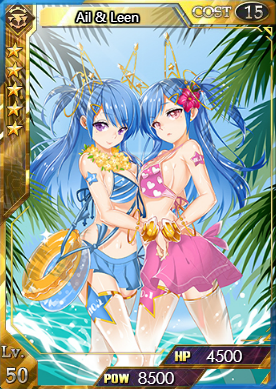 Star Level: ☆☆☆☆☆
Rarity: Super Rare 
Energy Cost: 15 
HP: Base - 2650 / 2915 (Flash)
Power: Base - 3850 / 4235 (Flash)
Max Limit Break: 4
Spell: Horrible Weapon - Power increases by 200%. 
College: Skyrage College 
Illustrator: Sir Mumumu
Intro: Ail and Leen are beautiful twins with high synchronization frequency. Their appearance, voice, and habits are pretty similar. What's more surprising is that the frequency of their brain is almost consistent. Once they work together, they can easily activate the inactive X substances inside their bodies so they can drive huge machines.
Obtain: Super Draw, Point Draw (Flash) during Bikini Girls event.
Ultimate Form
Level: 50 / 50 (Flash) / 90 / 90 (Flash)
HP: 4500 / 4950 / 10500 / 11550
Power: 8500 / 9350 / 13700 / 15070
Ad blocker interference detected!
Wikia is a free-to-use site that makes money from advertising. We have a modified experience for viewers using ad blockers

Wikia is not accessible if you've made further modifications. Remove the custom ad blocker rule(s) and the page will load as expected.