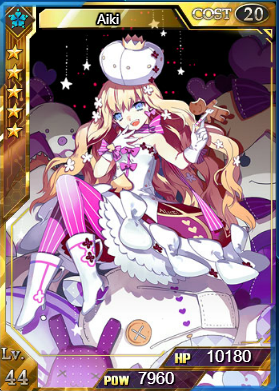 Star Level: ☆☆☆☆☆
Rarity:  Super Rare
Energy Cost: 20 
HP: Base - 7060
Power: Base - 2270
Max Limit Break: 4
Spell: Earth/Sunder - Power increases by 100%. 
College: Godef College 
Illustrator: STAR MAGE
Intro: Aiki is 17 years old but she looks much younger. She has intentionally made her body grow up very slowly to be popular with others, and she can make use of the ability to confine Infectors.
Obtain: Greater Draw, Super Draw, Coupon Draw, Berserk Infector drops.
Ultimate Form
Level: 44 / 90
HP: 10180 / 19500
Power: 7960 / 15100
Ad blocker interference detected!
Wikia is a free-to-use site that makes money from advertising. We have a modified experience for viewers using ad blockers

Wikia is not accessible if you've made further modifications. Remove the custom ad blocker rule(s) and the page will load as expected.