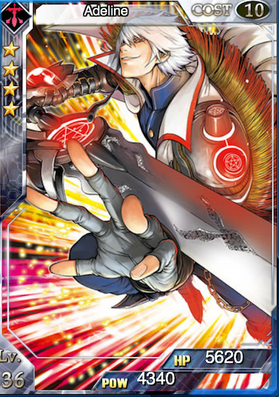 Star Level: ☆☆☆☆
Rarity: Rare+
Energy Cost: 10 
Power: Base - 1500
HP: Base - 2360
Max Limit Break: 4
Spell: #Hot-Blooded: Combat Focus - Increases Power by 100% when launching the first attack. 
College: Dragonale College 
Illustrator: Balwan
Intro: Adeline is known as the "White Knight" . Because of personal reasons, he dislikes X substances and the Infectors a lot and he has even promised to eliminate them. He has been in a reserve force and ready to sacrifice everything when necessary.
Obtain: Super Draw, Greater Draw, Coupon Draw, Berserk Infector drop.
Ultimate Form
Level: 36 / 70
HP: 5620 / 10000
Power: 4340 / 7700
Other
Not to be confused with his 5* prepayment card form.
Ad blocker interference detected!
Wikia is a free-to-use site that makes money from advertising. We have a modified experience for viewers using ad blockers

Wikia is not accessible if you've made further modifications. Remove the custom ad blocker rule(s) and the page will load as expected.